What can we do for you?
We build on 30 years of experience in complex customer projects, especially in radiation protection, which enables us to apply technical solutions to a wide range of customer needs. There are almost no limits.
The engineers at ensolma AG specialise in the development and production of high-tech solutions for protection against ionising radiation and for metal processing, mechanical engineering and metal construction.
We like to surprise our customers with results that exceed their expectations.
We enjoy solving complex problems that are too difficult for others.
We like to realise concepts that previously only existed in sketches and designs or even in the client's imagination.
This is where the "out-of-the-box" way of thinking helps us. We have completed many projects that we are very proud of, for example:
Massive radiation protection!
By means of a radiation protection door weighing 55 tons for a university nuclear research institute in the Urals in Russia.
This project is one of many premier projects where our engineers were able to demonstrate their tremendous experience in radiation protection and development. This was essential because the cyclotron used there produces radiation in the range of 18-24 MeV.
We're proud that we were readily able to develop door systems that can withstand twice that level of radiation.
Immense pressure tightness
We developed hermetic doors with a unique airlock that allows a pressure drop of 2000 Pa.
In this project we are enabling people to truly fly in a wind tunnel at air speeds of up to 300 km/h. As soon as the turbines start, they take off and enjoy a unique experience that depends on ensolma's airtight seal being 100% airtight.
And indeed, we are perfectly capable of meeting even higher requirements.
Innovative locking and safety concepts
With integrated solutions to prevent personnel from accessing high-radiation areas while radiation sources are in operation, we protect people from the harmful effects of radiation on a daily basis.
Our access concepts and heavy doors are also used, for example, in the banking sector to protect material goods and prevent unwanted access.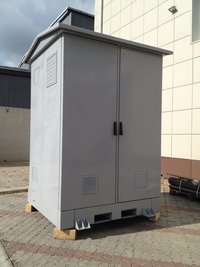 All weather cabinet
All-weather tailor- made cabinets with an air-conditioned interior space to accommodate a variety of equipment: electronic equipment, equipment for controlling chemical composition of ambient air, chemical composition of substances transported by pipelines (e.g. gas, oil, etc.). In general, any equipment that must work "in the field".
Such cabinets are installed in any climatic zone. Cabinets are insulated. Cabinets are equipped with adjustable ventilation devices. They have the insulated holes for input and output communications. They have anti-vandal protection.
There is the climate control system to maintain a stable temperature and, if necessary, moisture.
The cabinet has a sectional modular design. A customer can form cabinets of different widths and depths from the standard panels.
How do we do that?
What can you expect from us?
First of all, we listen carefully and work to understand your problem in detail. We ensure that all sides understand the situation before we begin thinking of solutions. We then compare your requirements with our previous projects and check whether we can offer you a quick solution that is not only cost-effective, but also proven based on our past experience. Only when all the essential facts, requirements and information are on the table do we start planning and propose solutions that we think will inspire you.
We put all our expertise, engineering knowledge and 30 years' experience to work in solving whatever complex problems you might bring our way. We think you'll be surprised.