Working with and
for ensolma

Meeting each other at eye level
Dear current and potential business partners and employees
At ensolma, we treat everyone with openness, respect and interest in you as a unique individual. We are a team of curious, inventive and cosmopolitan people, a fact that is providing crucial for our collective and individual success. Each and every one of us brings a unique background, personality and individual life experiences to our work at ensolma. In everything we do, we put people first every day by protecting them with our inventions, developments, products and services.
We embody Swiss values. At ensolma, we pay attention to details and precision. We strive for perfect results. At the same time, we care about people, treating everyone equally and fairly, regardless of age, gender, identity, ethnicity, cultural and religious background. We respect each other and everyone out of solidarity and a shared humanity.
We are convinced that innovation, economic and social progress can only succeed if we adhere to these principles and live them every day. Regardless of whether you work with ensolma as a current or potential customer, user or business partner or as an employee, supplier, or sales partner, we will work with you with an openness and trust that you have a right to expect from us. You can be who you really are and happily grow with us so that we can achieve great and important things together.
Come work with and for ensolma and bring your point of view and your personality to our culture of cooperation and innovation. We think it's obvious: When people of different cultures, genders, orientations, world views and different backgrounds come together, it shows in the results and we all become richer for it.
ensolma invests in the professional and personal development of our employees and offers targeted development and training opportunities. We cultivate an open, benevolent and cooperative management style and provide the basis for employees to develop freely and succeed, to feel heard and included, and to have their ideas valued and used.
We are an up-and-coming Swiss company and are expanding our activities within Switzerland and the neighbouring countries. We will need support in the team in the following areas:
Focus on operations
CE Officer / Quality Representative (m/f/d)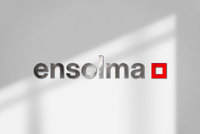 Focus on Sales & Marketing
Customer advisors with a high level of technical affinity, ideally in metal construction (m/f/d)
Focus on metal construction, hermetic seals and radiation protection
Engineers and designers (m/f/d)
Another important matter
Please send your application to:
ensolma AG
Headquarters / Internal Services
Frontwagplatz 22
8200 Schaffhausen
Switzerland
We will be glad to answer any questions which you may have:
Elena Groshkova
Managing Director
+41 (0) 52 503 81 80
elena.groshkova@ensolma.ch
We look forward to getting to know you!